Plains' veterans honored at school assembly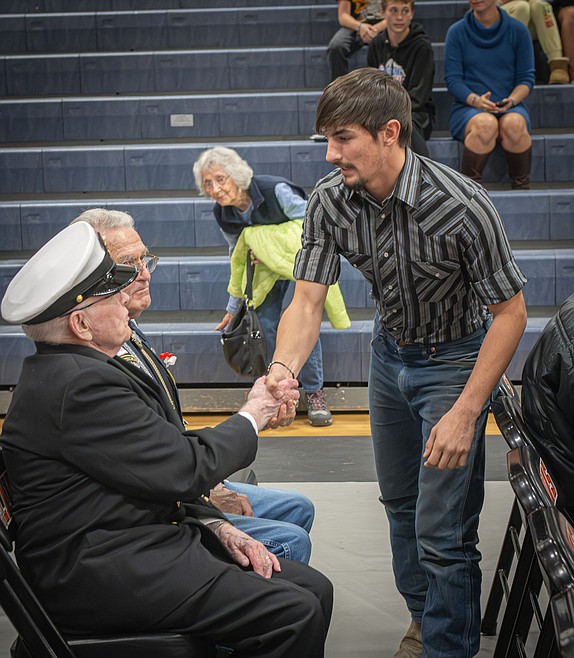 Plains senior Drew Carey thanks Navy veteran Bernard Parker at the Veterans Day assembly. (Tracy Scott/Valley Press)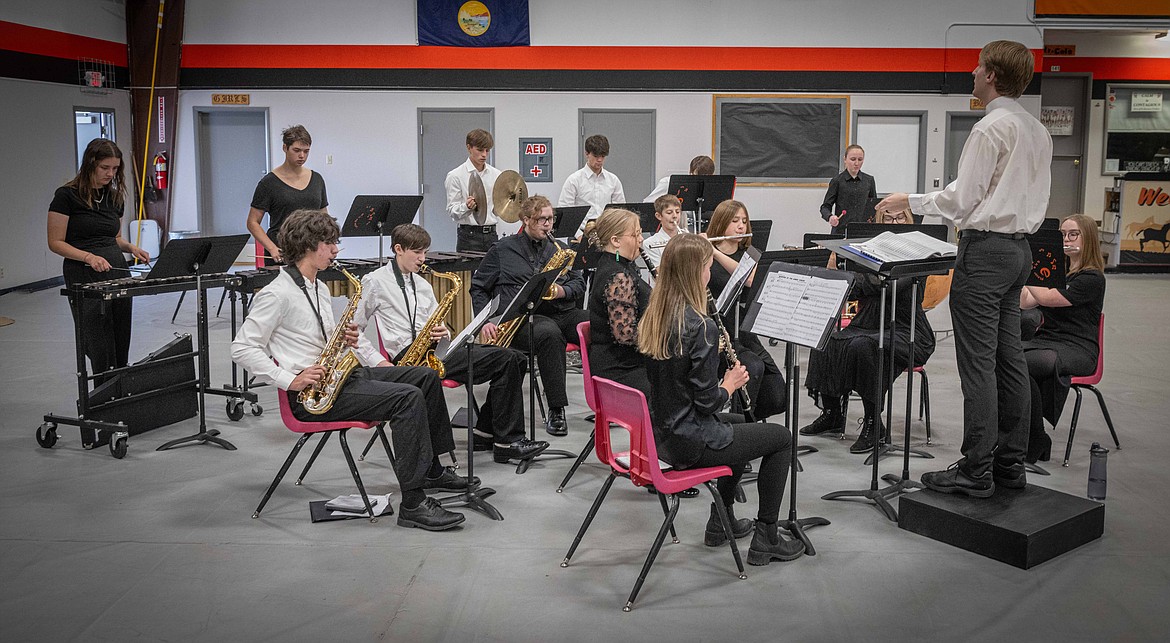 Plains school band plays songs from each military branch. (Tracy Scott/Valley Press)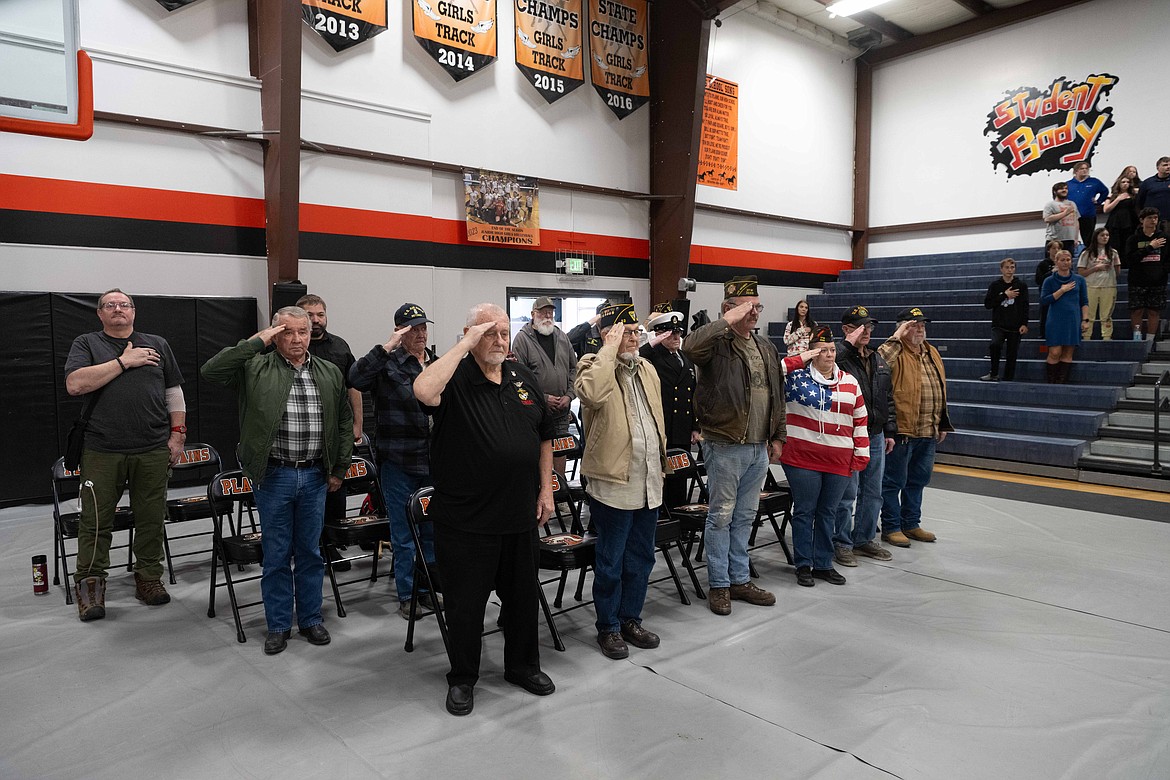 Plains veterans stand for the National Anthem. (Tracy Scott/Valley Press)
Plains School Superintendent Kathleen Walsh offers opening remarks during the Veterans Day assembly. (Tracy Scott/Valley Press)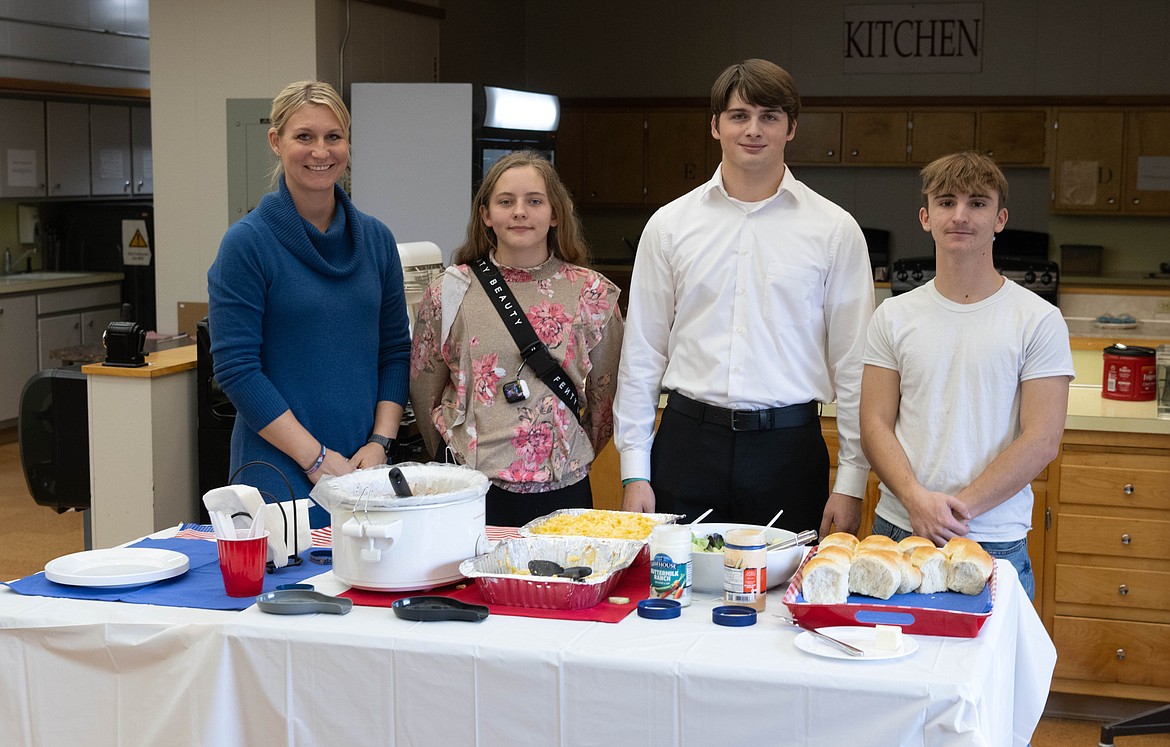 Family and consumer science teacher Charity Jermyn with volunteer student servers Brenden Vanderwall, John Thurston and Hallie Corbin. (Tracy Scott/Valley Press)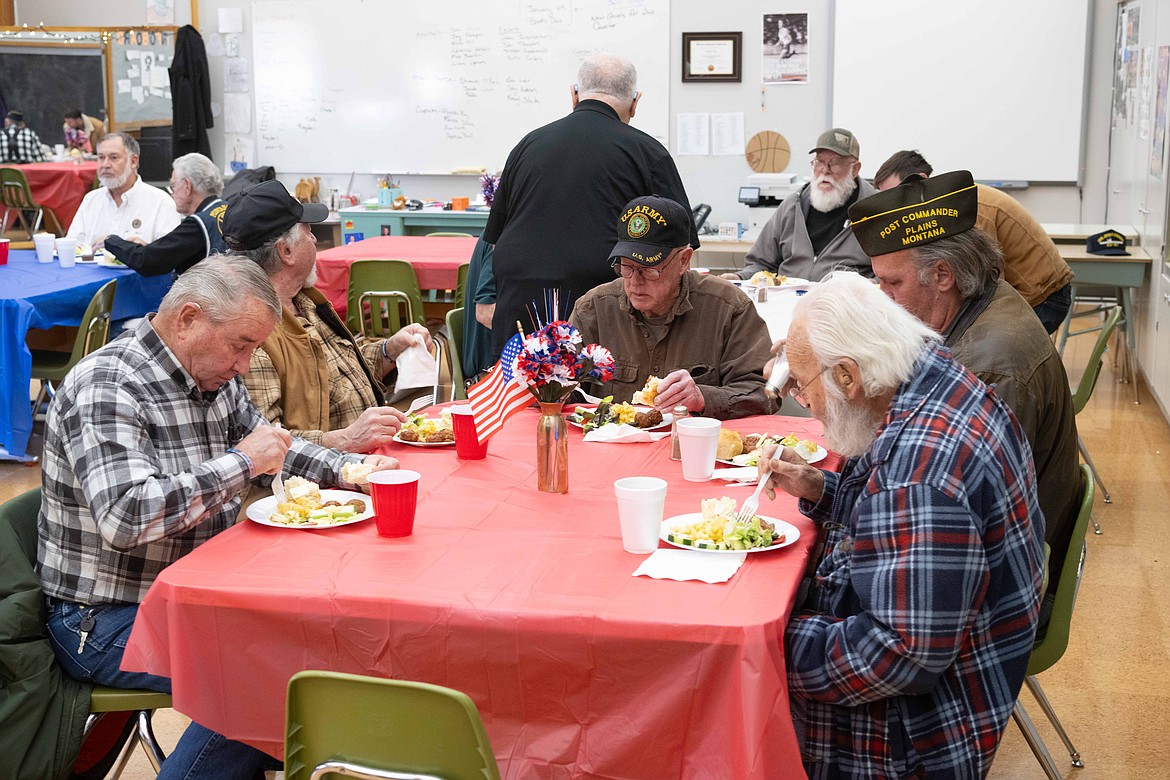 Local veterans are honored at the Plains luncheon. (Tracy Scott/Valley Press)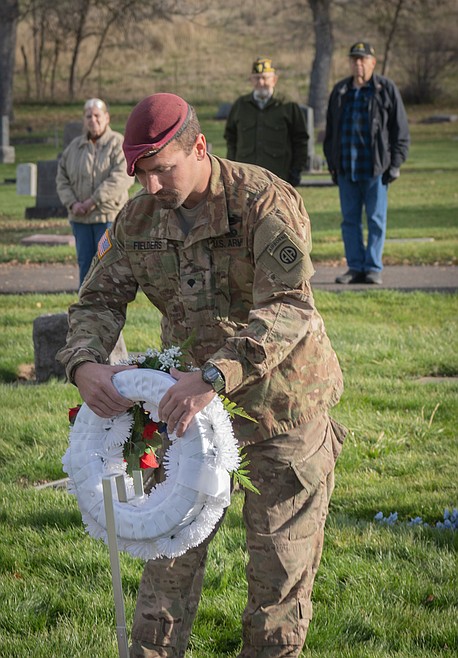 Army Airborne veteran Hunter Fielders places the veterans memorial wreath. (Tracy Scott/Valley Press)
Previous
Next
Sanders County veterans were honored last week by Plains students.
A luncheon was served by family and consumer science teacher Charity Jermyn. Thirty students also contributed to the making, preparation and serving of meals to 20 veterans attending the luncheon. 
This is the second year students have taken part in serving those who sacrificed and gave so much for the country. Veterans were served a meatball lunch, salads and patriotic red, white and blue cupcakes. Students Brenden Vanderwall, John Thurston and Hallie Corbin were on hand to serve the quests.
After the luncheon, each veteran was escorted to the school's gymnasium for the annual Veterans Day assembly. 
Plains School Superintendent Kathleen Walsh was the first speaker. 
"Some people may ask, how do you describe a veteran?," she said at the assembly. "Well, it would be correct to say they protect our freedom, provide us with a way to learn history and the world around us and more importantly they risk their lives for people they have never met. They are people of sacrifice and duty. They help us to be thankful for all the privileges we have as American." 
The next speaker, Jesse Jermyn grew up in Plains and is an employee of the school district. He is a 20-year veteran of the Air Force working as a SERE Instructor (Survival Evasion Resistance Escape Instructor). The job took him to all corners of the world. He spoke about what it means to be a veteran. The final speaker was Plains senior student Drew Carey. His speech may have been short, but it was powerful. He addressed the assembly by quoting scripture John 15:13, Greater love hath no man than this. That a man lay down his life for his friends. There was no better way to show his gratitude to our veterans.
Celebrations honoring our veterans ended with a solemn ceremony, in the military section of the Plains cemetery. The placing of a wreath on the eleventh month, the eleventh day and the eleventh hour. This time commemorates the Armistice agreement to end the fighting of the First World War. Tasked to place the wreath this year was Army veteran Hunter Fielders.  Fourteen veterans attended this year along with nine spouses and friends.
Recent Headlines
---