Volleyball recap: Rebuilding year for area spikers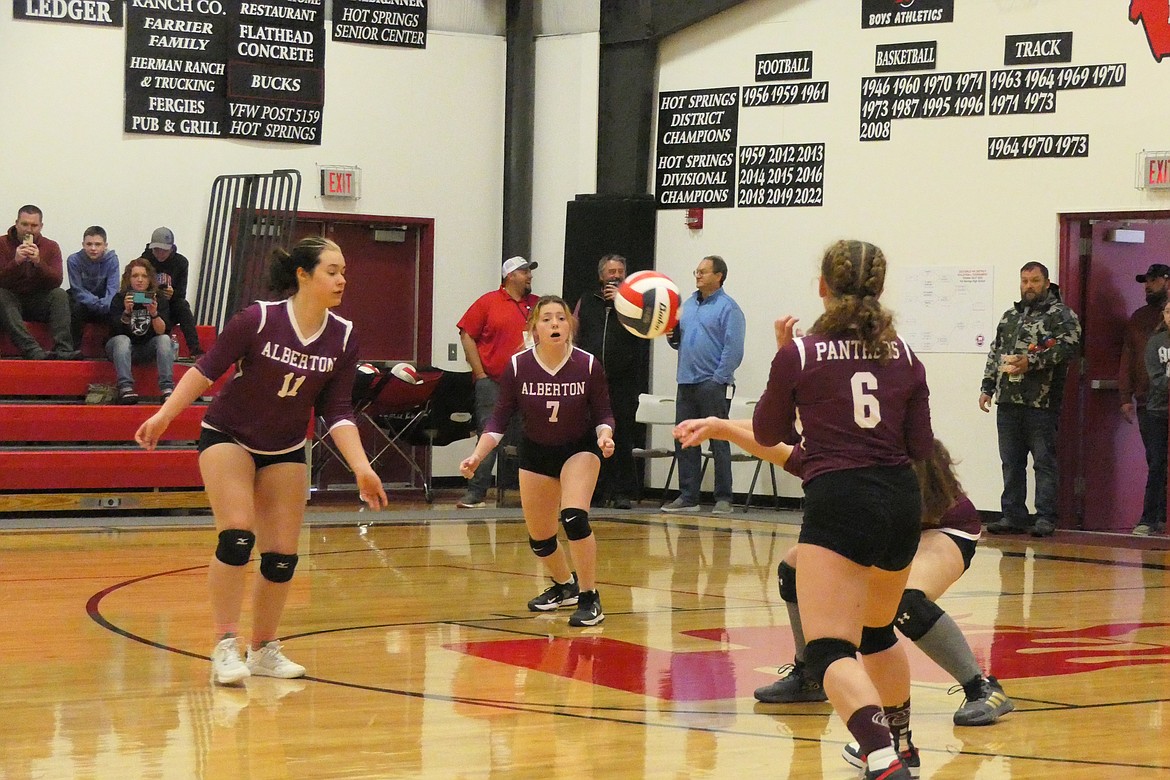 Alberton players circle in incoming shot during district play earlier this season. (Chuck Bandel/MI-VP)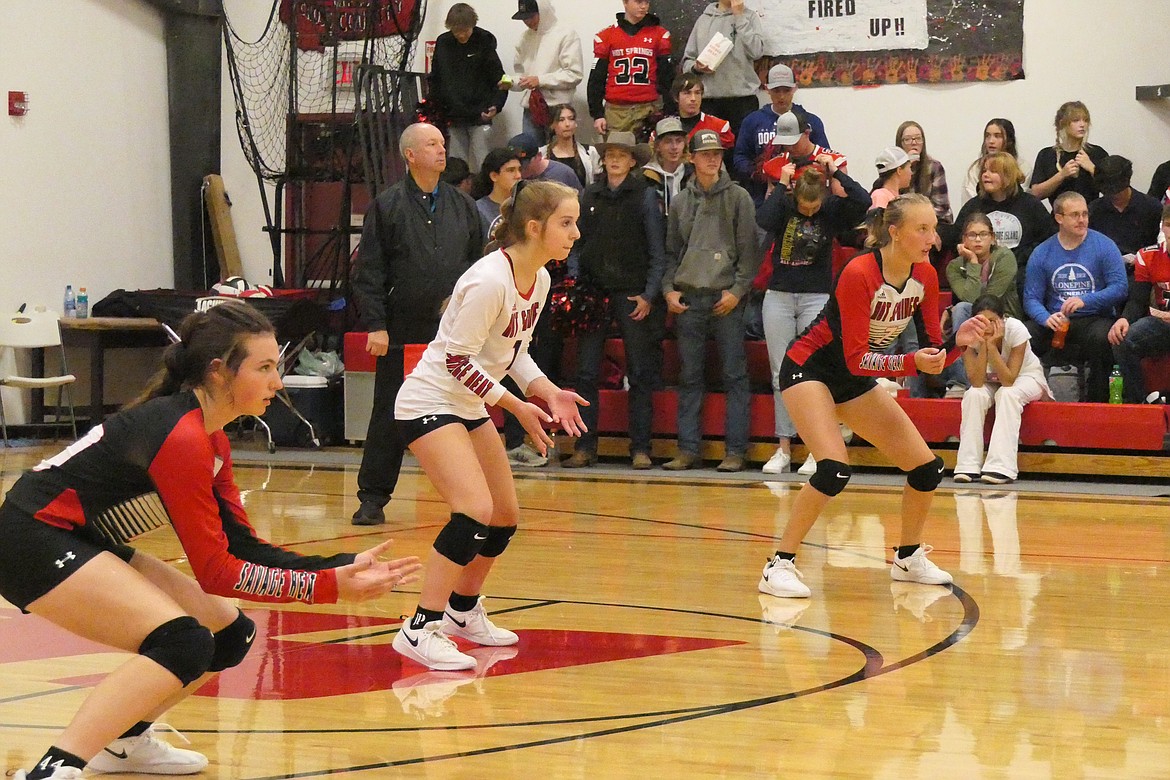 Hot Springs players (from left to right) Kara Christensen, Callie Cano, and Lauren Aldridge get ready to dig an incoming shot during post-season play in Hot Springs. (Chuck Bandel/VP-MI)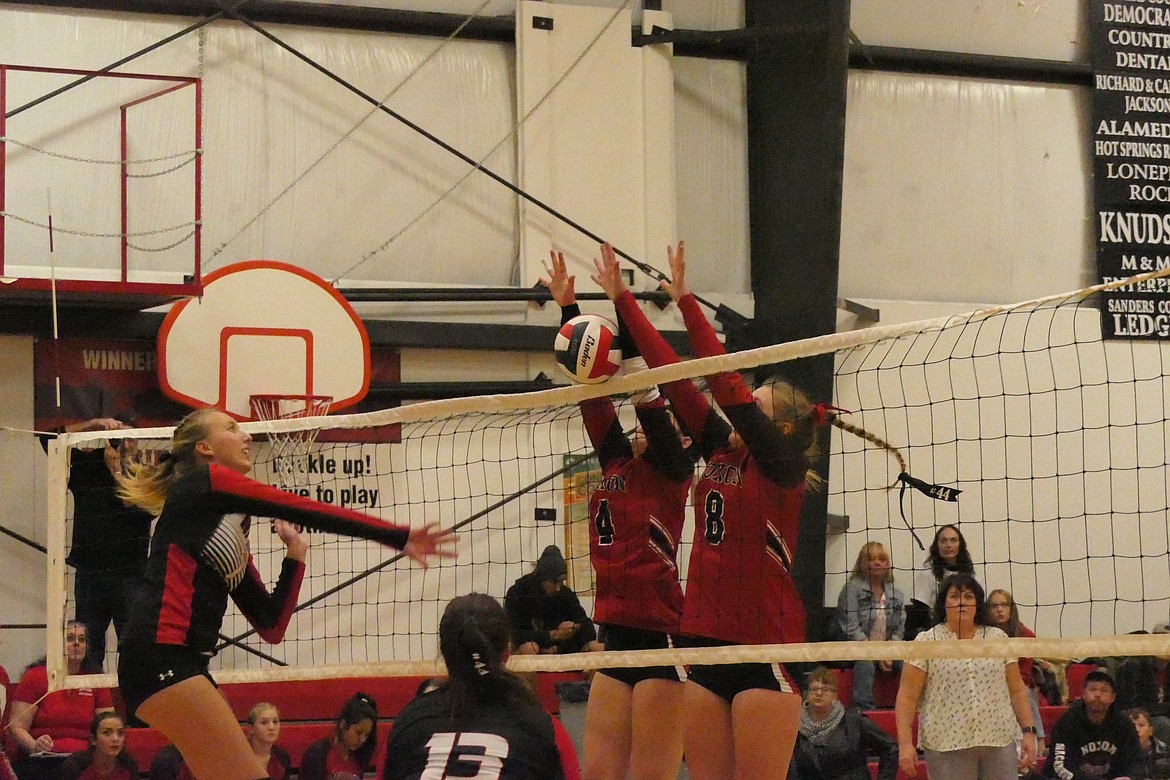 Hot Springs senior Lauryn Aldridge swats a shot into the waiting hands of Noxon's Seanna Richter (4) and Maygan Swanson (8) during District 14C tournament play last month. (Chuck Bandel/VP-MI)
Previous
Next
It was not a banner year for Sanders and Mineral County high school volleyball teams this fall. But there were some very promising signs of better times ahead as the 2023 season came to an end last week.
For sure, the power conferences to the south and east of here continue to reign supreme, paced by a solid group of tall, athletic and experienced ladies ruled the nets and area post-season tournament play.
But take heart, volleyball fans, help is on the way for several local schools.
Two area schools made strong late season surges and had success in the two conferences to which all seven high schools in two counties belong.
Thompson Falls, which has several key players returning next year from this season's 13-11 team, finished second in the District 7B tournament after doing the same in the regular season standings. Eureka won the regular season title and the District title and advanced to the state finals by finishing second in the Western Divisional tournament in Eureka.
T Falls finished fifth in the Divisional after advancing as the two seed out of the 7B tournament, hosted by Plains. The Lady Hawks did not advance out of the Divisional Round, but posted a 2-2 record at Divisional, good for fifth place.
Plains, meanwhile, lost it's opening divisional match to eventual champion Florence, then was eliminated the next day by T Falls, the fourth match between the two teams this year.
Plains also returns a solid core for next year after putting together an impressive surge in the final weeks of the regular season. The Trotters finished the season with a 9-8 overall record.
In Western 14C play, Charlo won the district regular season and the 14C tournament in Hot Springs, winning a marathon championship series against the host Lady Savage Heat to earn the district's number one seed at Manhattan Christian High School in Churchill, MT.
As the second place team in the District tourney, Hot Springs advanced to the MCHS Divisional the next week. There, they ran into Twin Bridges, which eventually placed second in the Divisional and advanced to state. Hot Springs lost to Twin Bridges 3-0, then was eliminated the next morning when they were swept by 13C power Drummond.
Charlo, meanwhile, lost it's opening round match, 3-2, to Philipsburg, won a consolation round encounter with Valley Christian, then was eliminated by White Sulphur Springs from District 12C.
Other 14C teams records in post-season play were: Alberton, 0-2 in 14-C; St. Regis, 1-2 in District play; and Noxon, 3-3 in District play (including loss to Valley Christian in special play-in game prior to Divisionals).
Manhattan Christian, as expected, swept it's way to the State championship this past weekend in Bozeman, while the Class B title went to Huntley Project, which defeated Townsend 3-1.
All local C schools have several talented young players on the way up the ranks.
Recent Headlines
---