Phyllis Jean Heyer, 91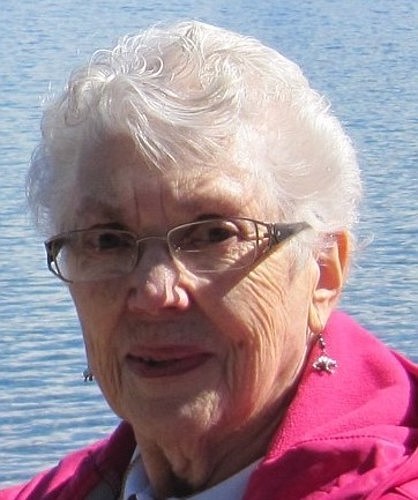 |
October 4, 2023 12:00 AM
Phyllis Jean Heyer, 91, passed away Sunday, Sept. 24, 2023, surrounded by family.
Phyllis was born March 27, 1932, in Missoula to Frank and Cordelia Donally. She was welcomed by big brother William L. Donally, she paved the way for her twin brother Philip B. Donally.
They lived on the ranch near Superior, and the kids followed Cordelia for schooling. She graduated from Darby High School in 1950. Phyllis graduated from St. Patrick's School of Nursing in 1953. She continued working for St Pat's in Obstetrics until they closed the department, then she worked on the Cancer floor for a few years until St Pat's decided to open the Day Surgery Department and worked there until her retirement in 1994.
Phyllis met the love of her life, Robert E. Heyer on a blind date set up by his mother, (also a nurse). They were married on St. Patrick's Day, 1956 at St. Francis Church in Missoula.
They were blessed with three children, Shawn R. Heyer (Anndenia), Robyn R. Heyer, Shannon M. Kinzel (Steve). She was a wonderful wife and mother. They had 65 wonderful years together before Robert's passing in 2021.
Spring, would find her planting flowers, helping at the Ranch come branding time, Summers, you would find Phyllis at the family cabin on Holland Lake, cooking, picking Huckleberries, and playing cards (usually winning). "Somebodies got to Win, and somebodies got to Lose!" She would make jams, candy and pickles to share for the family each Christmas. Fall and Winters would find her hunting, fishing, snow skiing, going to the Lady Griz basketball games, watching sports on TV and knowing lots of the players.
Phyllis was blessed with seven grandchildren, Hildinge Holmgren, Sarah (Josh) Bones, Shaylene (David) Ellis, Brennan (Payton) Holmgren, Rosannah Holmgren (partner Chris), Shelby (Tyler) Oaks, Axel (Caitlynn) Holmgren and 5 step-grandchildren Steve (Amber) Kinzel, Matt Kinzel, Amelia (Ryan) DeMar, Sarah (Woodlay) Merisma, Nathon (Jamie) Heyer. She had 20 great-grandchildren, that she loved, and they adored her also. Mom had special things she would make for all her grandchildren to eat when they came to visit. If she knew you were coming, she would make your special food just for you to eat or take home. She enjoyed going to school sports or functions for her family.
Phyllis was preceded in death by the love of her life Robert, her parents, her brothers, her grandson Hildinge, her grandson-in-law Josh.
Phyllis is survived by her family, her sister-in-law Nancy Donally, her nieces and nephews. Many special friends including Mike and Ann Marie that were always available to help when needed.
Services will be at Garden City Funeral Home, Friday, Oct. 20 at noon. Reception to follow. Graveside service at 3:30 p.m. at St Mary's Cemetery. Please share your stories to the website or at the reception. Donations may be made to JDRF, CDLS, St Jude's or a charity of your choice.
Recent Headlines
---