Buck-N-Bull Coffee Company opens in Alberton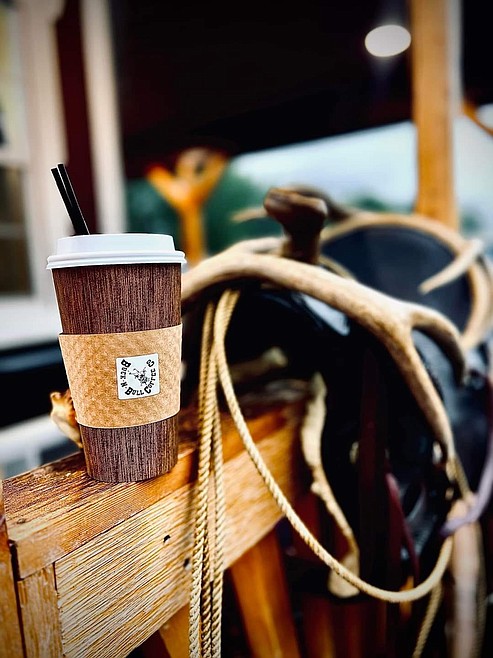 Buck-N-Bull Coffee Company opened their coffee stand down in Alberton this past summer. Already business has been remarkable considering it's the only place to grab a latte between Superior and Frenchtown. (Photo courtesy/Veronica Buck)
It's not unusual for the hardworking residents of Mineral County to have to drive long distances for one reason or another on a daily basis. Whether its commuting to a neighboring town for work, making the trek to Missoula for doctor visits, or heading to Superior to grab groceries for dinner, racking up miles along I-90 is just part of life.
But to simply get a good cup of Joe, folks around Alberton have been missing out for quite some time. From Superior to Frenchtown, a stretch of nearly 40 miles, there hasn't been a coffee shop or espresso stand for many years. This August, that all changed thanks to business partners James Buck and Stephanie Bull, who opened up a much-needed drive-thru coffee stand in Alberton.
"We noticed a need for the coffee shop when people would drive all the way to Superior or Frenchtown just to get coffee," Bull remarked. "Of course, I love coffee too so it just made sense. We had discussed opening a coffee shop for a few years and the opportunity came up to lease a spot for it and we jumped on it. It took over a year to get it done but we finally opened August 2, 2023."
Buck-N-Bull Coffee Company has been a welcome addition to the commercial scene in the old railroad town. She said, "Business has been great so far. We decided to start winter hours but are currently rethinking that choice. I believe for October we will be open from 6:00 a.m. to 4:00 p.m. Monday through Friday, and 7:00 a.m. to 3:00 p.m. Saturday and Sunday."
Bull has lived in Alberton for the past four years, but has been all around Montana. Prior to frothing milk and grinding espresso, Bull was accustomed to a different kind of drink making.
"I mostly made my money bartending for over 30 years." And she's pretty familiar with entrepreneurial work, "I have owned a couple of other businesses with my family," she added.
Her partner, James Buck, works at the school as head of maintenance. Bull mentioned, "So he does all of the behind-the-scenes stuff. In addition to working the shop myself, we hired other baristas. One is his daughter and the other two are from the community."
Together they decided to try and offer as many Montana sourced products as possible. She noted, "Quality is extremely important. We offer the blue-collar blend from Folklore Coffee out of Conrad, Montana and our ice cream is Wilcoxson's out of Livingston, Montana." If you're looking for something other than coffee, they also have a great line of fruit for our smoothies. Buck-N-Bull's menu consists of coffee, ice cream, smoothies, Lotus drink, Italian sodas, Pepsi fountain products, muffins, and cookies.
"We have gained some very loyal customers in a short period of time," shared Bull. "We have seen lots of kids from day one for ice cream and Italian sodas. Parents love that we offer healthy choices for the smoothies and the school staff, teachers and coaches have shown tremendous support." Thoughtfully, the coffee stand is trying to be open on days during athletic events, so the traveling teams' bus and staff can grab something and get on the road.
Bull stated, "Our motto is "You'll get a kick out of our coffee." If you look closely at our logo, there is a coffee cup being kicked by the bull. The bull rider has a ponytail. And the bull is branded with a BNB. All of the little details matter and it was fun creating the details in the logo, shop. and products."
While the space is small, like the average coffee stand theirs is much bigger than most. Bull detailed, "There is constant cleaning and restocking while there is downtime. Keeping track of inventory, ordering and preparing for busy times takes up most of the day."

And when she's not in her coffee stand on Railroad Avenue, most of her time off is spent with family and friends. Bull said, "We like to camp and have bonfires when we can. In the winter I hibernate."
Ultimately Bull expressed, "My goal for Buck-N-Bull Coffee Company is to simply get better over time. I want to be here in five years just getting better every day. Like I said, details matter, but to me I never want to stop learning or doing better. I am proud of what we have done so far and know that I will be proud of all to come!" Buck-N-Bull Coffee Company is located on 415 Railroad Avenue in Alberton. Their phone number is 406-396-3366.
Recent Headlines
---