County encourages residents to enroll in Smart 911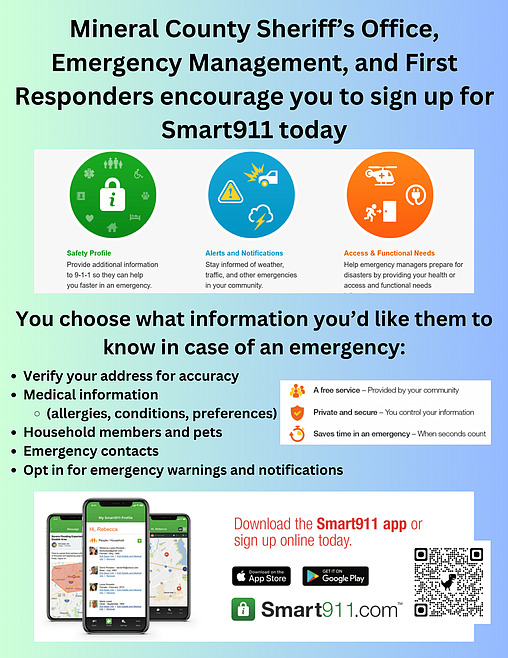 by
MONTE TURNER
Mineral Independent
|
September 13, 2023 12:00 AM
Last year using Covid money, then Mineral County Sheriff Mike Toth purchased Smart 911 (aka Reverse 911) and residents were urged to enroll.
For those that did, it was used twice recently with the first message relaying the emergency: "This is Mineral County. There has been a shooting in your area. Please remain inside and lock your doors," which repeated several times.
Later, they received another call stating, "This is Mineral County. The suspect has been apprehended."
A soothing second call for everyone on alert after the first call with short information and instructions.
The Smart911 can focus on areas for notifications all the way to a countywide alert. Had this system been in place during the forest fires of 2017, dispatch would have targeted the areas that were to evacuate rather than a Mineral County Deputy or USFS Ranger driving up Sunrise Creek knocking on doors.
It's not a catch all, but it is capable of informing those enrolled via text, email, landline, cellphone or all four communication options.
"There are many residents in the county that do not know about this service," said Patti Curtin, Co-Communications Officer Supervisor-
Mineral County Sheriff's Office along with Lisa Denn. "This is where neighbors helping neighbors comes in especially if elderly are involved or lack of access to a computer comes into play. Help them do a 1-time application so that everyone is on board for emergencies we face," she said.
Individuals can create a Smart911 Safety Profile for their household at www.smart911.com or on the Smart911 App. Quicker yet is to scan the bar code in the lower right corner of the flyer accompanying this article.
Any questions can be directed to Amy Parks (Lommen), MPH, MS, MCHES Mineral County Health Department and Mineral County Disaster and Emergency Services Cell (406) 830-0235.
Recent Headlines
---