Hot Springs upsets tough Seeley squad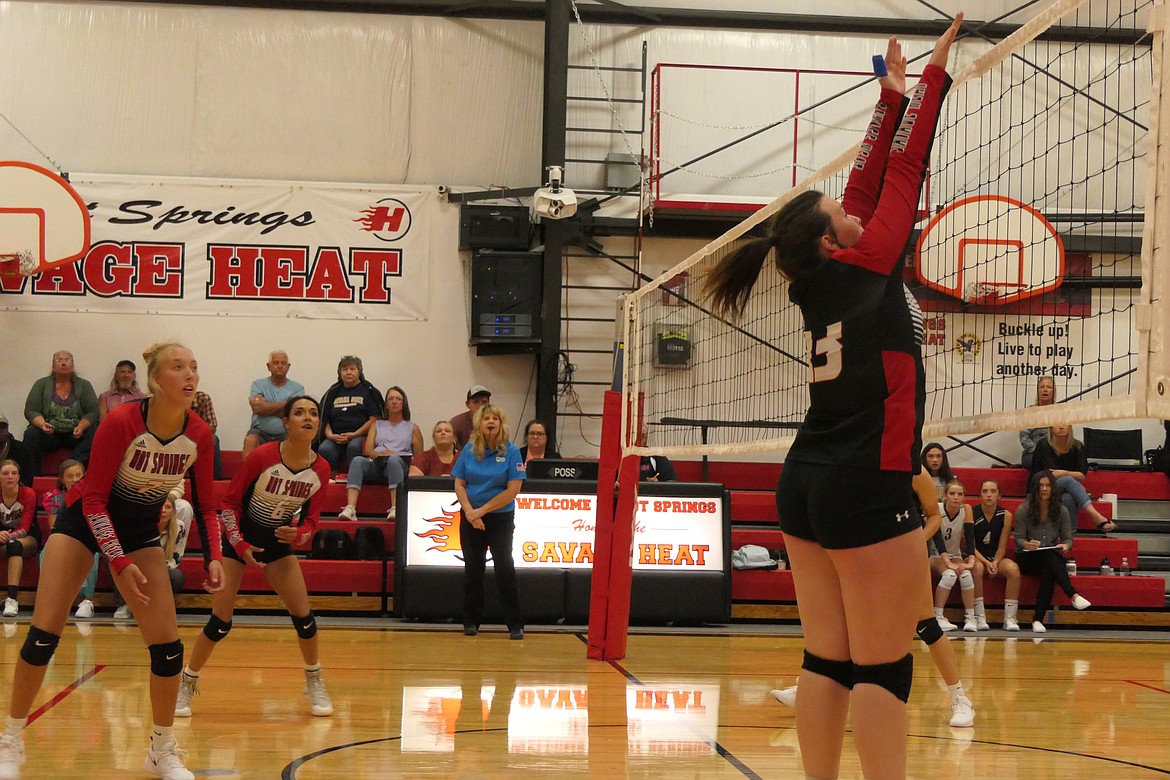 Hot Springs junior Brooke Jackson goes high to swat back a Seeley shot while teammates Lauryn Aldridge (7) and Jenna Heinrich (6) look on. (Chuck Bandel/VP-MI)
by
CHUCK BANDEL
Valley Press
|
September 13, 2023 12:00 AM
If this keeps up the rest of the Montana High School volleyball season, surprises will be so common we won't be able to call them "surprises" any more.
Maybe it's already too late, as demonstrated by last week's match between Seeley, an annual volleyball powerhouse, and Hot Springs, a team that is often in the middle of the fight.
But when all is said and done, even the throng of fans who packed the Hot Springs gym for this one would have to admit some surprise at the 3-0 Hot Springs sweep.
Hot Springs is one of several schools/teams in this area who have had strong freshmen and sophomore classes that have fueled surprising new talent and created matches like this one.
When Hot Springs jumped out to an early lead and salted away the first set by a 25-18 score, it may have seemed kind of surprising to anyone who hasn't followed local high school sports.
This team has mostly sophomore and junior players in the starting role. Oh there are still players like senior Lauryn Aldridge who provide the base from which these flowers bloom.
But up and coming, or already arrived youngsters are making their mark on the games.
With a 1-0 match lead, Hot Springs kept up the attacking style that combined with hustle got the first set win.
That translated into a belief in victory and a 25-20 second set win to take a commanding 2-0 match lead.
But this was Seeley...they don't lose often.
Didn't matter to this bunch, they took the proverbial bull by the horns and threw it to the ground. What else can you say about the 25-13 third set, match-clinching win that was also a sweep?
Hey, these girls are pretty good.
In the wacky conference in which Hot Springs plays, this kind of thing is going to happen more and more...wait until these kids are seniors.
Aldridge helped offset the tall and lean Seeley front line with outstanding play at the net. She finished the match with seven kills and two blocks. Teammate Brooke Jackson led her team with 10 assists, and sophomore Kara Christensen had seven service aces, many of them low flying lasers onto the Seeley side of the net.
Hot Springs takes to the road this week for a game tonight (Sept 12) in Noxon. Thursday night they journey to Alberton to take on the "surprising Lady Panthers" who this past week knocked off St. Regis. They conclude their week with a home game Saturday night versus Charlo.
Another surprise coming?
Recent Headlines
---