Support needed to restore Plains horse sculptures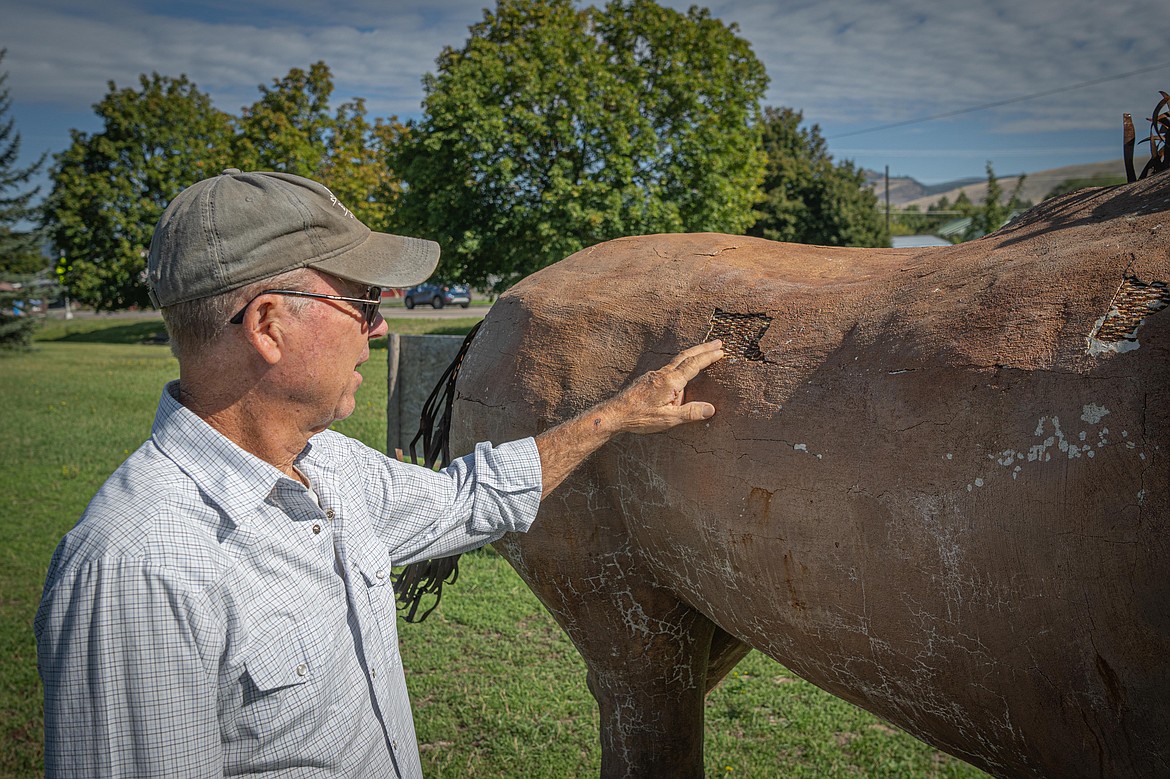 Dick Blizzard points out damage to one of the horse sculptures along Montana 200 in Plains. (Tracy Scott/Valley Press)
by
TRACY SCOTT Valley Press
|
September 13, 2023 12:00 AM
Retired contractor Dick Blizzard attended the September town council meeting and addressed his concerns about saving the remaining horse sculptures along the Montana 200 greenway.
Blizzard asked the council about how he and the town could help in the restoration of the symbol of our town of Plains, the Wild Horse.
Three horses were originally sculpted by Kenton Pies over 20 years ago. Pies made the first prototype horse from steel mesh and a plaster type outer layer, taking 300 hours to complete. He had plans to build five horses, but only finished three.
Weather has taken its toll on the horses over the years. The prototype horse, being his first, suffered the most from the weather because lighter construction materials were used. Learning from his prototype, Pies built the remaining two horses with stronger materials.
Pies' first horse was beyond repair and was removed and disposed of.
Blizzard, who has been a resident for over three years, was impressed with the horse sculptures when he and his wife first visited Plains. After noticing that one had been removed, he wanted to learn more about the horses and found photos of them being constructed. He found the two remaining horses to be structurally sound and could be repaired.
The remaining horses were made from a steel mesh that was formed in the shape of a horse and a cement type material was applied to act as the hide of the horse.
Blizzard said that some of the cement has fallen off and the steel mesh has started to rust. His plans to restore each horse is to remove the loose cement and reapply the "skin" of the horse with a weather approved material.
Blizzard said that he has never taken on a project like this but with his experience as a contractor he knows how to get things done and how to motivate people.
"I can take a dream from someone's napkin drawings and when everything is done, I need everyone smiling. That's how we can make this thing come together," he said.
Blizzard said that he would like to get the project started over the winter and complete the restoration, in place, next spring and summer using weather resistant materials.
For those who would like to volunteer to help in the restoration or those that can donate to help with the cost of the materials, contact Dick Blizzard at 406-274-0034.
Recent Headlines
---