Clearwater Montana Properties makes $13k donation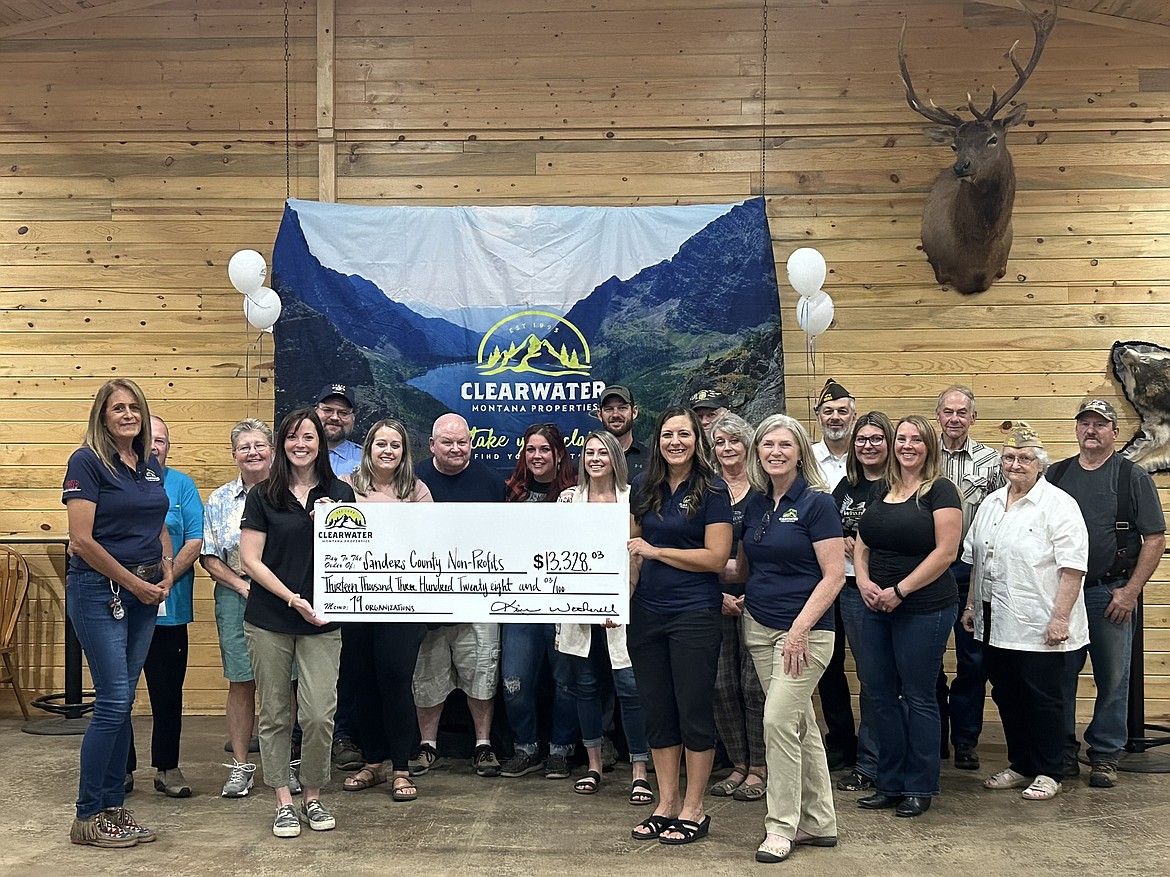 Recipients and agents from Clearwater Montana Properties at a recent donation presentation event. (Photo by Clearwater Montana Properties)
Giving back to the community is a very real and active concept in Montana.
One of the leaders of the movement is Clearwater Montana Properties, the state's largest real estate brokerage which recently presented a check in the amount of $13,328 to a long list of charitable organizations throughout the northern half of Sanders County.
The funds, donated through the company's Charitable Giving Program, were generated via local real estate sales, of portion of which was given by Clearwater agents for the purpose of helping the communities in which those sales were earned.
"Each year Clearwater and our agents give a portion of each commission earned to an entity of the agents' choosing in the community in which is was earned," said CEO/Broker Keven Wetherell. "We are very grateful for the business that we receive from each of our valued clients that enables this support within our communities".
In Sanders County the donations were distributed to a wide variety of community non-profit organizations from Heron to Thompson Falls.
The funds will help those organizations better serve the needs of their communities, a Clearwater spokesperson said.
Five of those checks went to rural fire department entities, including the Heron Rural Fire District Auxiliary and Heron Volunteer Fire Department, the Thompson Falls Rural Fire Station and the Trout Creek Volunteer Fire Department. Also on the list of rural fire organizations is the Noxon Rural Fire Department.
Noxon RFD spokesman Shannon Sorg said the Clearwater donation to Noxon's fire department was for $498.96. The funds will be used for a variety of functions to assist the RFD, which covers a large area in and around Noxon.
"The money will be used for everything from equipment maintenance and repairs to our contributions to the community during Christmas," Sorg said. "These funds absolutely help our efforts to serve the community".
Since its founding in 1993, the company has made more than $1, 078, 132 in donations to charitable causes throughout Montana, Idaho, Washington and Wyoming. Clearwater Montana is Montana's largest real estate brokerage with a network of 30 offices throughout Montana, Idaho and Washington.
"Clearwater focuses on providing quality customer service, superior market knowledge and giving back to the communities we serve," a company released statement said.
Another of the local non-profits receiving assistance is the Noxon VFW. New Post Commander Gary Searle said the veterans group received $232.88 in donations from Clearwater this year.
"These funds are nicely spread out among lots of non-profits in the area," Searle said. "We use them to help with our community projects, scholarship efforts and other projects like our firewood drive to help elderly residents obtain firewood they need to heat their homes".
Searle said the donations help with a wide variety of projects such as the Trout Creek quilters and other veteran assistance programs.
Other organizations listed by the company as recipients of donations this year include: Trout Creek Senior Citizens Center, Thompson River Animal Care Shelter, Sanders County Rocky Ridge Saddle Club, the Foundation for Wildlife Management-Sanders County, the REX Theater in Thompson Falls, the Cabinet Ridge Riders, the Noxon Senior Center, Noxon Food Bank, Noxon Bi-Centennial Park, and the Sanders County Fellowship Group.
Clearwater spokesperson Mandy Krueger said agents working in the company's local network include Jennifer Thrash, Allison Aumiller, Lisa Wood, Mark Smith and Regional Broker Manager Jeannette Carr-Smith.
Recent Headlines
---