Fair Board gets earful of complaints
The Sanders County Fair Board took note of numerous complaints about this year's event during their monthly meeting last Wednesday evening, among them the cost of carnival rides and a lack of maintenance at the fairgrounds.

Fair Board Chair Randy Woods started the meeting out with a recap of this year's fair. Sixteen residents attended, along with Sanders County Commissioners John Holland and Dan Rowan. Fair Manager Melissa Cady and 4-H representative Juli Thurston were present to give their reports to the board.
Woods changed the order of the meeting, starting with the fair recap, postponing the public participation in non-agenda items until later in the meeting.
Woods stated, "It's been a very challenging summer for us, we had a tough time with summer help. We weren't able to get people here. We hired a groundskeeper/maintenance guy and that didn't work out for us. It's been a tough year. We were missing a few things. The fences weren't fixed right. Some of the coolers weren't cleaned."
He continued, "The fires caused some people not to attend, it caused some of our vendors to not attend. We had seven bull riders signed up one night and only one showed up. Thursday night we had 17 signed up, 12 showed."
This year's rodeo was live on the Cowboy channel and all three performances were recorded and available on the Cowboy channel. Attendance doubled over last year's rodeo, which Woods felt was because of the lower ticket prices. Woods said pricing has remained the same for the last two years.
The fair added additional handicap parking this year and Woods suggested that the fair needs more picnic tables.
He did note that the Demolition Derby went well with 46 cars participating.
One thing that the Fair Board did differently was hiring deputies with the Sanders County Sheriff's Office to patrol the fairgrounds from three in the afternoon until seven in the morning. Even with the officers on site, several signs were stolen.
Woods spoke extensively about issues that fire evacuees encountered with moving their animals onto fairground property. He said that there was not much of a plan in place to handle an emergency of this type at the fairgrounds. Woods said that he and Sanders County Emergency Manage Bill Naegeli, over the next few months, will develop a plan to handle emergencies like this in the future. He felt the fair needed a check-in process to track who is dropping off animals, who will be taking care of the animals and how they will be protected from theft.
During public comment, Teresa Garrison said she felt that the pricing of the carnival rides was higher than other fairs in the area and that the "fair has been getting a boatload of complaints."
She continued saying, "last year the fair went down hill and this year went down even further."
She requested that the Fair Board members find a different carnival company for next year's fair.

Several others expressed the same concerns about the carnival. Other concerns expressed concerns about travel expenses for board members who traveled to a rodeo in Las Vegas.

Concerns were also raised about the condition of the fairgrounds and restrooms left by the derby and carnival crews.
Plans for new sinks are in place to be installed in the 4-H restrooms.
Board Chairman, Randy Woods, said "we had hiccups everywhere and we made notes and will work on it for next year.
Woods added, "We have a long list of things to do for next year."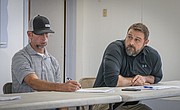 Recent Headlines
---