Longtime Superior barber hangs up her shears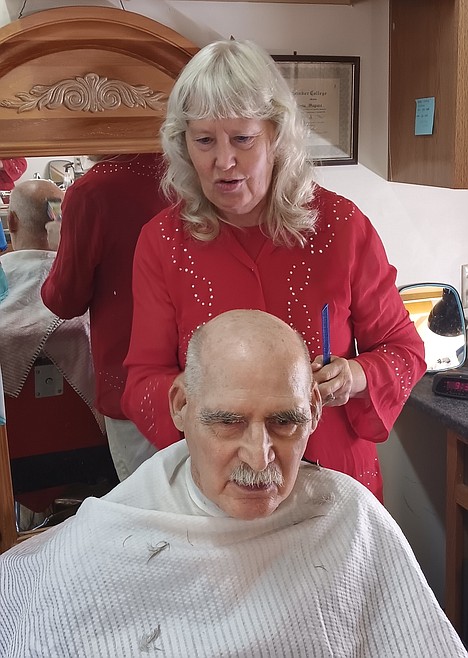 Becky Magone cuts Richard Dent's hair recently at Becky's Superior Cuts in Superior. With Magone retiring Sept. 30, Mineral County will no longer have a commercial barber shop. (Monte Turner/Mineral Independent)
by
MONTE TURNER
Mineral Independent
|
September 20, 2023 12:00 AM
For nearly 50 years, Becky Magone has been cutting hair. Her husband, Dale, cut hair with her for many years and they will have been married 48 years this November.
"Dale and I grew up together here [Superior] so we've known each other our entire lives," she smiles.
Dale recently retired as the Mineral County Justice of the Peace and now it's Becky's turn.
Becky's Superior Cuts had a shop in Superior and then moved it to Missoula and commuted every day. When the pandemic clobbered everyone, Becky made some decisions to close Missoula and reopen in Superior and has been "lowering ears" at 101 1/2 River Street as the only barber in Superior. For the past few years on Friday and Saturday mornings, her parking lot has had a steady flow of walk-in customers as you could tell by looking at her parking lot.
"Dale and I are going south the first of October," she shared. "I'm going to spend the winter with my sister who lives in Kingman, Arizona. I want to be down there for my sister's birthday because hers is the 8th of October and mine is the 16th so we want to be together for our birthdays."
Once Magone retires, there won't be a barber left in Mineral County. There are those that may cut hair at their homes but there will not be a street front commercial barber which means people will be traveling to Plains and Missoula.
She has held her price of $15 per hair cut for years.
"I'm not fond of those who charge $40 and $50 for a haircut," she said and explained the difference between a barber and a cosmetologist. "We learn to cut hair. They learn how to do all of that chemical stuff. Perms and colors and that type kind of good stuff. They think that they cut hair the same way we do, but they do not," she stated.
Becky was the first registered barber student in Montana.
"I went to the Razers Edge for my barber school when it was owned by Dave Bell and Dave Blake and it was the first barber college in the state of Montana. It was on Main Street in Missoula, right next to where the Christian Book Store is. But today, there isn't one (barber college) in the state," she shared.
"I love being a barber," Magone said. "I'm going to miss it and the friends I've made over the years."
Cutting hair in the summer when she and Dale are home is still up in the air.
"I don't know for sure. There're people that want me to cut their hair. I do some at home now so we'll just see how this first winter goes."
Saturday, Sept. 30 is Magone's last working day and Dale is inviting everyone to her retirement party at 2pm at Becky's Superior Cuts.
Recent Headlines
---