Bobcats fall to Arlee in Class B action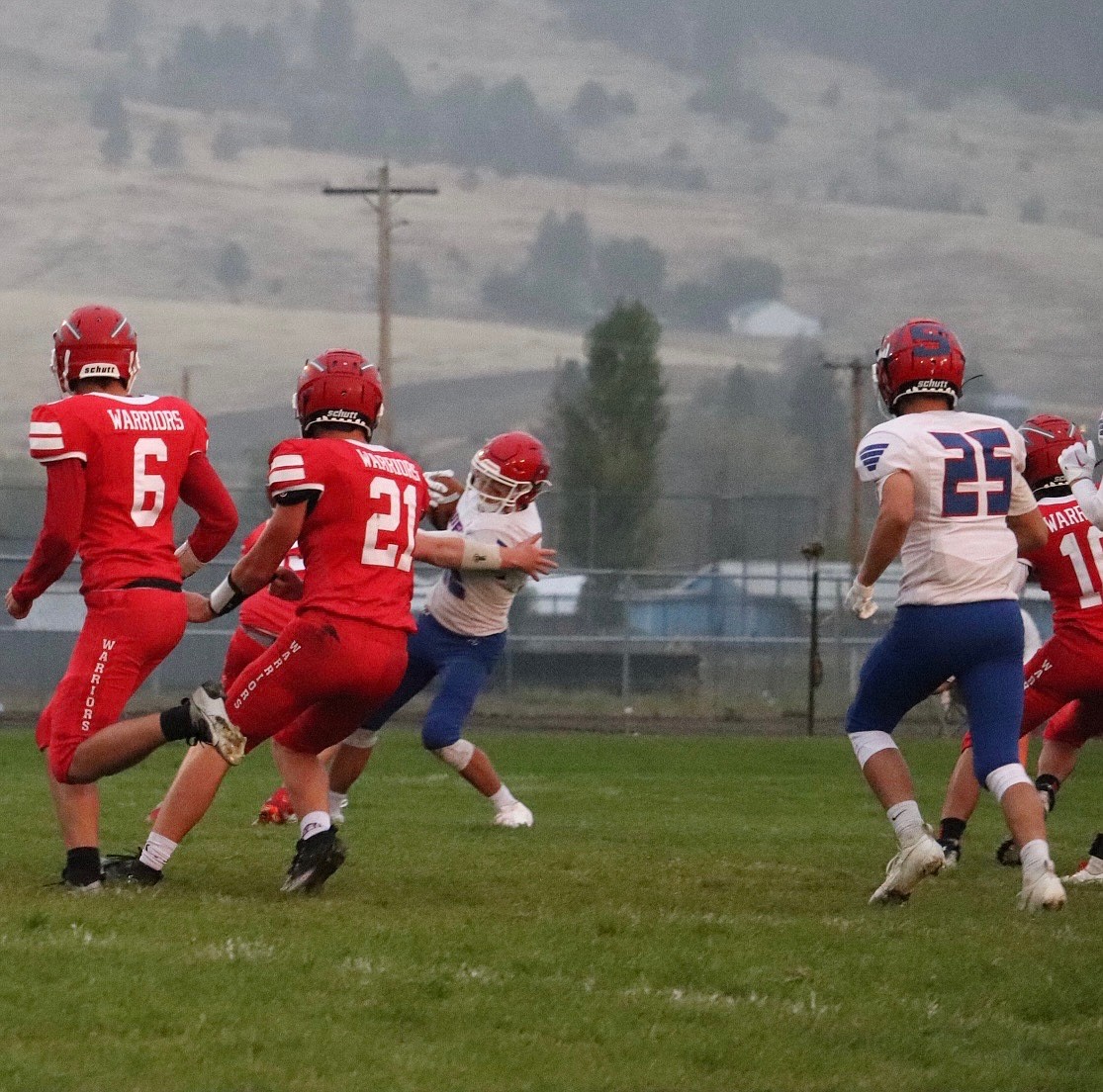 Superior running back Lucas Kovalsky is surrounded by Arlee Warriors as he looks for running room during their game Friday night in Arlee. (Photo by Kami Milender)
Moving up to Class B has proven to be a challenge for the Superior Bobcats football team, who were already challenged by some big losses through graduation last spring.
That being said, it is not a big surprise that Arlee, which returned a solid team from last year, would come away from their meeting this year with a 70-36 victory.
But given the coaching staff at Superior, it won't be long before they adapt and adjust.
And, its worth noting that all three teams who have beaten the Bobcats in their now 2-3 start to the season, are 5-0 on the year.
It's called baptism under fire.
The Warriors got things rolling on their home field Friday when they jumped out to 6-0 lead on a 16 yard pass play from quarterback Kendall O'Neill to Bridger Smith. The PAT was no good.
About three minutes later, after stopping the Cats on defense and getting the ball back, Jake Knoll broke loose on a 35 yard scamper to the end zone, which was followed by a successful PAT run by O'Neill. That boosted the Warriors lead to 14-0 with 6:01 remaining to be played in the first quarter.
Superior fought back behind the running of senior running back Lucas Kovalsky, who capped a Bobcat drive with a three yard trip into the Arlee end zone. Kovalsky then ran for a two-point PAT, pulling the Bobcats to within 14-8.
But with time running out in the first quarter, Jace Arca sprinted 50 yards for another Warrior TD. This time the PAT was no good, and with 50 seconds left in the quarter Arlee was up 20-8.
Arca scored again in the opening minutes of the second quarter, but that score was offset by a 34-yard pass from Jaxson Green to Phin Cataldo with 4:57 to go in the first half. At that point, the score was 28-14.
Then, with just over 10 seconds to play before halftime, Knoll ran 23 yards for his second TD of the game, giving Arlee a 34-14 lead at the intermission.
Kaiden Ostby hauled in a pass from O'Neill just over a minute into the third quarter and cashed it in from six yards out, followed by an Arca two-point run. That boosted the Warrior lead to 42-14.
Superior answered on their next possession when Green dove into the end zone from three yards out, capping a Bobcats drive. He then ran for the two-point PAT, cutting into the Warrior lead and making it 42-22 with 8:45 left in the third quarter.
However, Arlee matched that score with a three-yard TD run and a successful PAT run, bumping their lead to 50-14. A few minutes later, Arca scored his third TD of the game when he scooted through the Superior defense and scored from 55 yards out. The PAT try failed, but at that point Arlee had a 56-14 lead.
Kovalsky then scored his second touchdown of the game when he snagged a 16-yard scoring strike from Green. Kovalsky was successful in the two-point PAT try and Superior trailed 56-22.
By that time the Arlee lead was pretty much insurmountable. Knoll broke free on a 78 yard scoring run with 8:30 left in the game, and with an Arca two-point run, the Warriors lead grew to 64-22. The two teams traded touchdowns the rest of the fourth quarter, with Green completing the offensive fireworks with a 15 yard touchdown run. When the smoke cleared, the final was 70-36, Arlee.
The loss dropped Superior to 2-2 in the conference and 2-3 on the year, while Arlee stands at 5-0 in conference play and overall.
Next up for the Bobcats is a home game this Friday versus Victor. The Pirates come into Superior with a 0-4 record
Recent Headlines
---