Hawks shut out Anaconda for homecoming win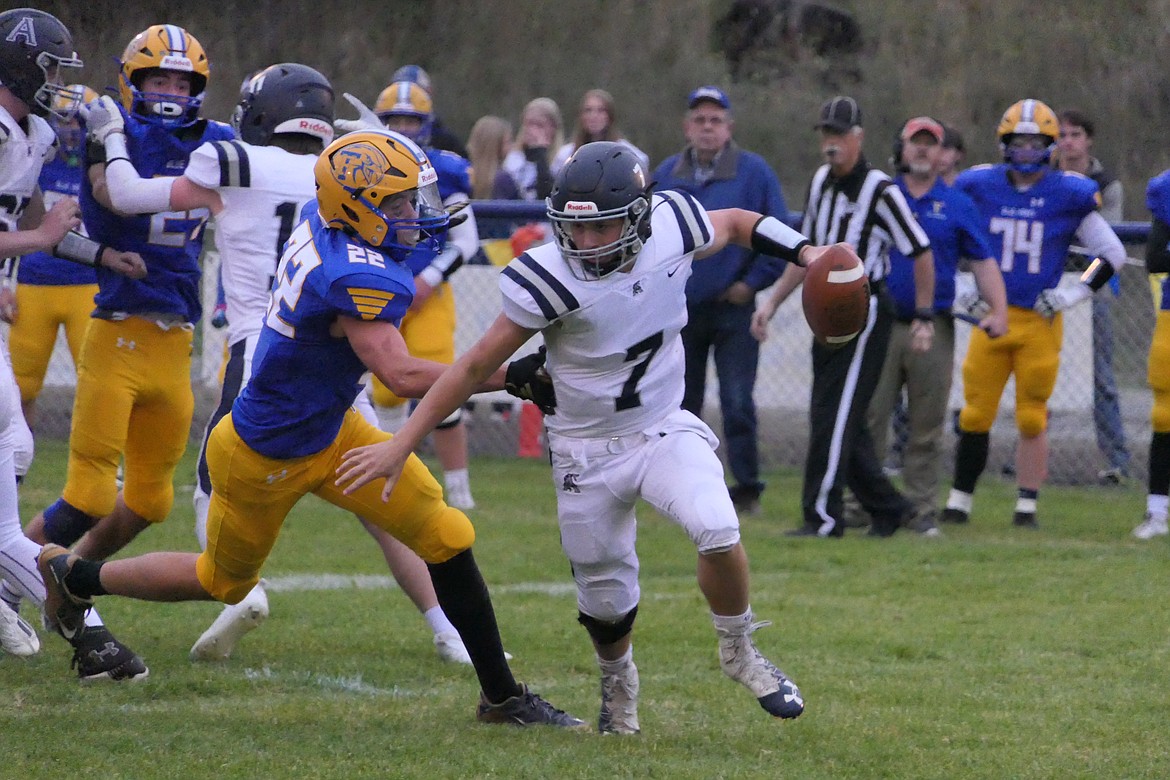 Thompson Falls' Braedon Ferris gets ahold of Anaconda quarterback Corey Galle during the Blue Hawks homecoming win over the Copperheads Friday night in T-Falls. (Chuck Bandel/VP-MI)
Thompson Falls defensive lineman Hayden Hanks wraps up Anaconda quarterback Corey Galle for a sack during their game Friday night in Thompson Falls. (Chuck Bandel/VP-MI)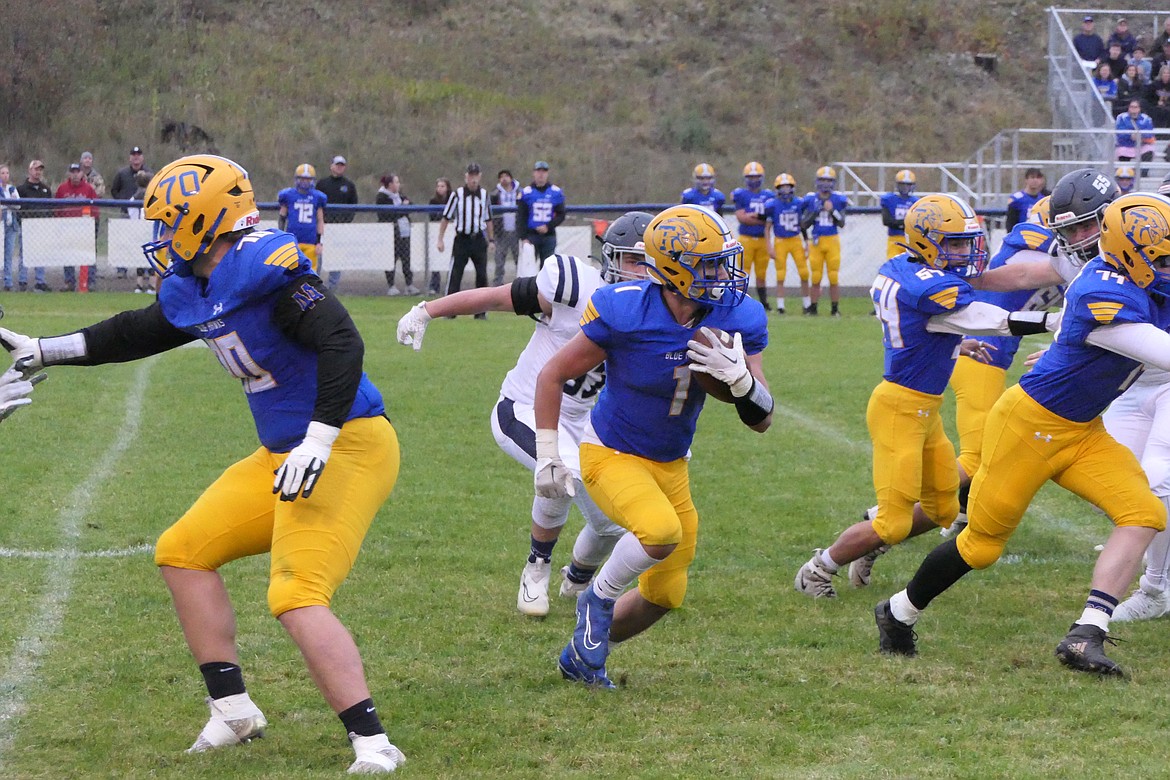 Blue Hawks running back Kaiden Robins (1) looks for running room in T-Falls' win over Anaconda Friday night in Thompson Falls. (Chuck Bandel/VP-MI)
Previous
Next
Thompson Falls senior Max Hannum had a weekend fit for a king.
Not only did he catch a pair of touchdown passes in the Blue Hawks' 46-0 homecoming victory over winless Anaconda, he was named Homecoming King at half time.
In all, Hannum had five receptions for 48 yards and chalked up a pair of sacks of Anaconda quarterback Corey Galle.
The Blue Hawks scored first in what was a tight, defense oriented first quarter when junior QB Bryson LeCoure picked off a Copperheads pass and ran it back 30 yards for a score with 1:20 to go in the opening 12 minutes of play. The two point conversion was good, giving the Blue Hawks an 8-0 lead at the end of the quarter.
Early on in the second quarter, Hannum hauled in a short, five-yard TD toss from LeCoure, and, with a successful two-point after touchdown conversion, T Falls held a 16-0 lead.
They added to that later before the first half came to an end when LeCoure capped a Blue Hawks drive with a one-yard plunge into the end zone. Another successful PAT boosted T Falls to a 24-0 halftime lead.
At the half, Hannum was chosen as Homecoming King, and fellow senior Faith Palmer was chosen as the Queen.
When the game resumed, Hannum celebrated with another receiving TD, this one also a five-yarder from LeCoure. The PAT was good and T Falls was in control 32-0 at the end of three quarters of play.
In the final quarter, junior running back Kaiden Robins plowed across the goal line from four yards out, giving the Hawks a 39-0 lead when the PAT kick was good.
T Falls closed out the game scoring when senior defensive back Nick Tessier picked off a Copperhead pass and raced 46 yards for six points. Hannum kicked the extra point to produce the 46-0 final score.
The Blue Hawks unleashed a multiple running back attack on the Copperheads, with three players rushing for 40 yards or more for the game. Robins led the team with 58 yards on 14 carries, while Tessiser had 46 yards on just two carries, one of which was a 41-yard romp. LeCoure added 44 yards, and Sam Burgess had 38 yards rushing on seven totes.
LeCoure was 9 of 13 passing, good for 62 yards. The Blue Hawks piled up 277 yards total against Anaconda's defense.
Thompson Falls travels to Eureka this Friday for a 7 p.m. game vs the Lions, who are unbeaten on the year with a 5-0 overall record. T Falls' win over Anaconda pushed them to 2-3 this year.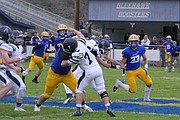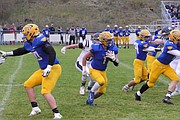 Recent Headlines
---