Hot Springs gets big wins at home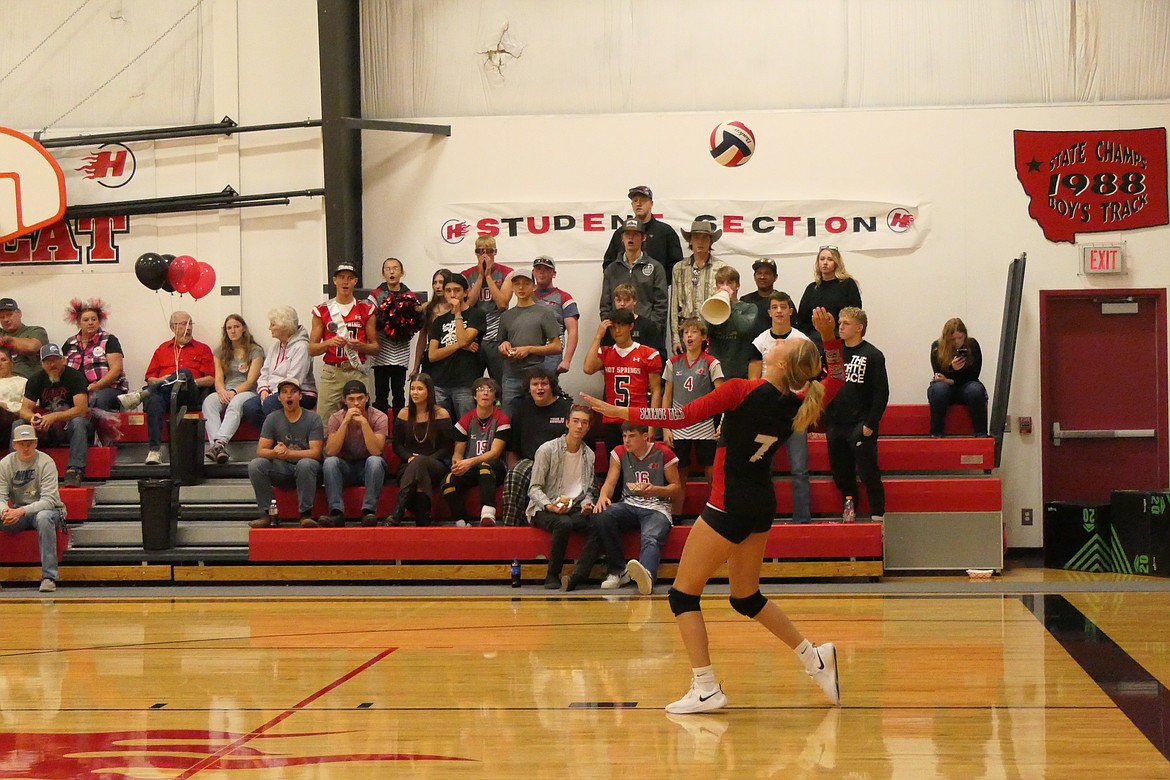 Lady Heat senior Lauryn Jackson serves the ball to Two Eagle River during their match in Hot Springs Saturday night. (Chuck Bandel/VP-MI)
Six sets of volleyball equaled two match sweeps for the Hot Springs Lady Heat this past weekend.
Tuesday night they hosted Arlee and beat the Scarlets 3-0. Saturday evening they took on Two Eagle River with the same results, this time a relatively easy win over the Lady Eagles in Hot Springs.
The Heat began their week with a visit by Arlee and jumped on the Scarlets in the first set, winning 25-14 to take a 1-0 match lead. They made it a 2-0 lead with a 25-16 set two win, then posted the sweep with a 25-17 game and matching clinching set three win.
Junior Brooke Jackson posted a match high 15 assists to help lead the Lady Heat against Arlee. Senior Lauryn Aldridge also had a solid game, recording nine kills and four blocks while helping Hot Springs win the battle at the net.
Georgia Uski had five aces for the Lady Heat, while Kara Christensen had a team best six digs.
Saturday night, which was also Hot Springs Homecoming night, the Heat had a relatively easy time with winless Two Eagle River, dominating all three sets of that match sweep.
During pre-game ceremonies, junior Brooke Jackson was chosen as Homecoming Queen.
Hot Springs overcame an early 3-0 Lady Eagles lead and steadily pulled away for a 25-7 first set win and a 1-0 match lead. They added to their match advantage with a 25-8 win in set number two, then clinched the sweep with an overwhelming 25-4 win in the third and deciding set.
The Lady Heat next play this Thursday when they journey to St. Regis for a conference game versus the Lady Tigers. They return to their home court Saturday (Sept 30) for a crucial league game against rival Noxon. That game begins at 6 p.m. (preceded by a JV game).
Recent Headlines
---