Plains spikers sweep Darby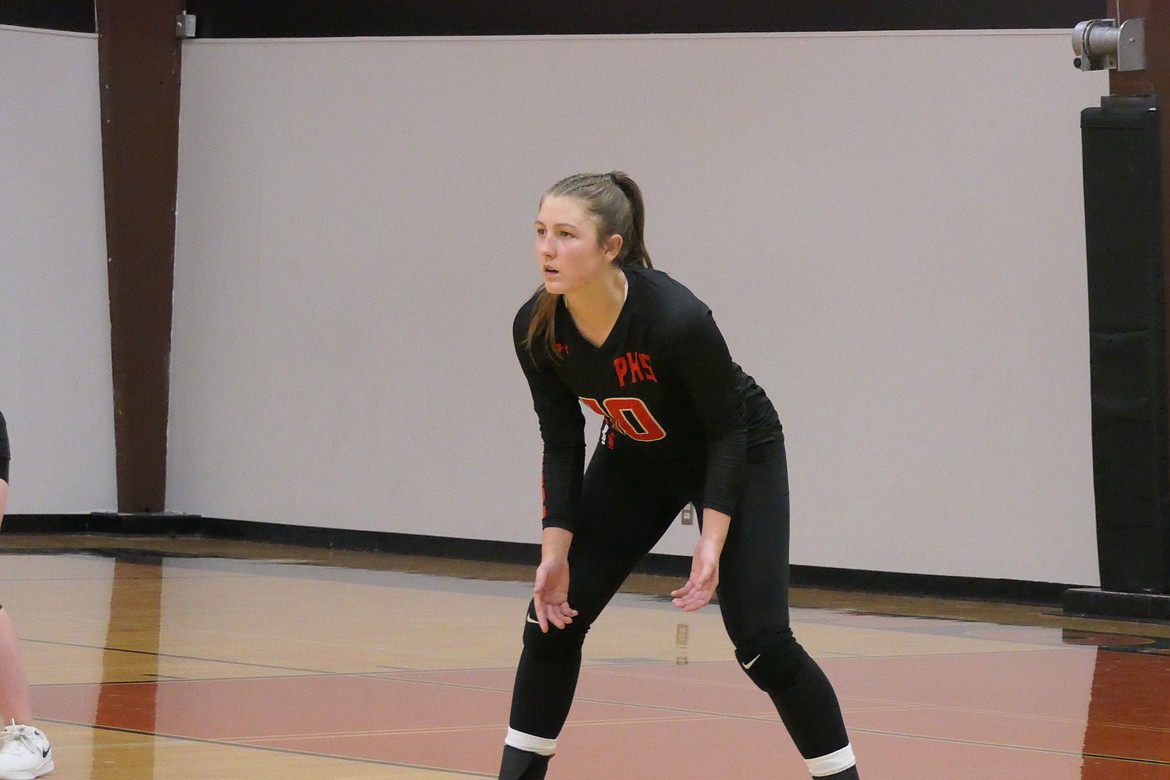 Trotters senior Blakely Lakko waits for a dig attempt during Plains' game versus Darby Thursday night in Plains. (Chuck Bandel/VP-MI)
Sometimes, even if you are not successful to the full extent or your efforts and hopes, you still have to step back as an athlete and say "wow, what a game."
That could possibly sum up the volleyball week for the Plains Trotters, who last Thursday swept Darby at home, then fell in a five-set nail-biter to Arlee on the road Saturday evening.
Plains opened their week with a 3-0 sweep of Darby in what was a close match that featured some outstanding play at the net by the Trotters front line.
The Trotters opened the match with a back-and-forth first set win over the visiting Lady Tigers, 25-18 to take a 1-0 match lead. They followed that up with a 25-15 win in set number two to go assume a commanding 2-0 match lead.
Then, in a down-to-the-wire set three, Plains held off a determined rally by Darby and eventually eked out a 25-23 set victory to clinch the sweep.
Plains freshman Claire Lakko had a standout match, piling up a match-best 18 assists. The Saner sisters, Teagan and Taylor, also had good sets, with Taylor amassing a team best eight digs, while Teagan led the team with six kills. Teagan also had a team high six blocks as the Trotters controlled the net throughout the match.
Saturday night the Trotters took on Arlee, which was seeking its first win of the season after going 0-5 in the first half of the volleyball schedule.
The Scarlets opened the match with a hard-fought 25-22 set one win, giving them a 1-0 match lead.
But the Trotters regrouped and squared the match at 1-1 with a 25-12 victory in the second set. Then it was Arlee's turn to bounce back, and that they did when they scored a 25-19 set three victory, giving them a 2-1 match advantage.
Then came one of the most exciting sets of the year, which involved numerous ties and lead changes before the Trotters were able to take a 26-24 fourth set win and square the match again at 2 sets each.
That led to the fifth set tie-breaker that also went down to the wire before the home team was able to forge a 15-12 win, giving them their first match victory of the year at 3-2.
The Trotters, who dropped to 1-3 on the year with the loss, return to the courts this Tuesday (tonight) for a Homecoming match with Troy. They then travel to Eureka for a Saturday afternoon encounter with the Lady Lions.
Recent Headlines
---