Thousands race at Mountain West Classic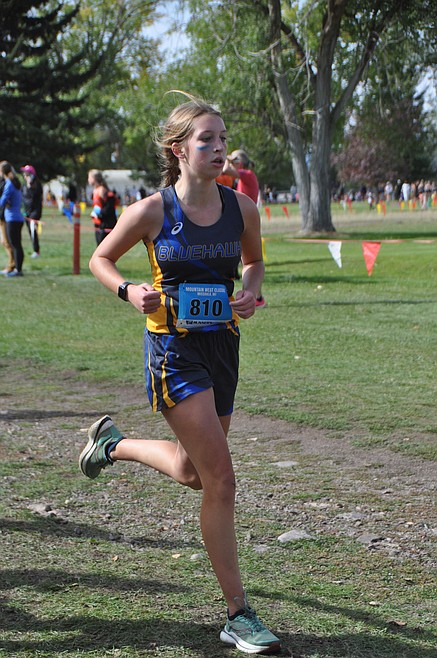 Thompson Falls freshman Aubrey Baxter competes in the Mountain West Classic cross country this past Saturday, among more than 1,000 runners who took part at the UM Golf Course in Missoula. (Photo by Sarah Naegeli)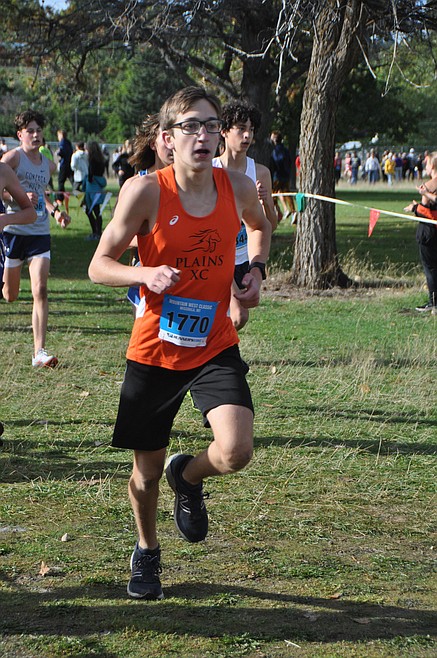 Plains cross country runner Kalem Ercanbrack competed in the JV division of the Mountain West Classic cross country event this past Saturday in Missoula. (Photo by Sarah Naegeli)
Previous
Next
As cross country events go, this is second only perhaps to the Montana state championships.
The Mountain West Classic invitational represents a good blend of experience and inexperience, up-and-comers and established runners all vying for a place on the prestigious meet's upper crust.
And it serves as a gauge of talent and skills at a variety of levels in the surprisingly popular high school sport.
This year's event, held at the University of Montana Golf Course in Missoula, attracted nearly 1,000 runners from more than 60 different schools from around the state and region.
Races were held in men's and women's categories for both varsity and JV competitors, with the JV races mostly involving Class B and C schools and athletes. It also featured some of the top Class AA and Class A Montana schools at the varsity level, including several out of state entries aware of the race, its caliber of competition and the grandeur that is cross country running.
Locally, teams from Thompson Falls and Plains were entered in the event, with runners from T Falls split into the varsity or junior varsity races depending mostly on their level of experience with an event of this magnitude.
Plains runners were entered in the JV portion of the meet and both men's and women's teams fared well against runners from schools large and small.
The Plains women's JV entrant finished sixth in the team standings from among more than 63 schools entered. Thompson Falls, which split its squad between the varsity and JV runs, did not have enough runners entered in either category to qualify for the team standings.
The Trotters (Plains) were paced by freshman standout Marina Tulloch, who has emerged as a legitimate state contender this fall via her lofty finishes in this and other cross country meets. Tulloch covered the 5K (3.1 mile) course in 21:21.6. The JV women's race was won by Sunburst runner Nikki Nau, who finished with a time of 20:54.7.
Bozeman's girls won the JV team title with 69 points, just two team points ahead of runner up Preston. Plains had 292 team points.
In the men's JV team competition, Coeur d'Alene was first with 52 points, while Helena's JV team was second with 78. Plains boys, paced by the 40th place finish by eighth grader John Owen Jermyn who finished the course in 18:53.0, helping the Horsemen finish 21st overall among the more than 60 teams involved. Teammate Joe Martin also had a sub-20 minute time of 19:34.6 for Plains.
Tuff Ryder paced the Thompson Falls JV boys with a time of 23:57.0, while teammate Sam Nowlan came to the finish line at 24:04.4, and Jakob Molina clocked a time of 24.34.8.
Plains JV boys times included: Kalem Ercanbrack, 20:33.0; Drew Carey, 20:49.9, and Asher Seymour, 23:11.8.
Trotters runner Annika Ercanbrack was a top 50 finisher for the women's JV team, coming across the line at 23:07.7. Teammates who finished the race included: Savannah Costner, 23:42.7; Ashley Ferlan, 24:29.5, and Peyton Wasson, 25:32.8.
Three T Falls JV women also completed the run, including: Addie Traver, 28:42; Evalyn Edwards, 28:14 (PR); and Jaden Bewick, 29.47 (PR).
A total of 517 men's runners competed in the JV races, while 347 JV women came across the finish line.
More than 440 men were listed in the varsity event, while the women's varsity competition featured 364 runners.
Thompson Falls varsity runner Cael Thilmony ran the course in 18:22.8, despite a flu-like illness, while teammate Blake Shusterman was timed in 21:38.1. Thilmony's time was good for 191st place in the field of men's varsity runners.
Thompson Falls women who participated in the varsity race included Faith Palmer, who finished at 21:17, a new personal record; Aubrey Baxter, 22:31; and Peighton Kenney, who crossed the line at 24:23. Both Baxter and Kenney's times were season bests.
"It is a very competitive race," said T Falls cross country coach Sarah Naegeli. "Our runners who competed at the varsity level were all seasoned athletes who knew what to expect. Even with that, they were blocked in and had to work their way out and around other runners, all very useful skills for competing."
Naegeli said the weather and course conditions were ideal for the mass of runners who attended the event.
"Weather at these meets (including the Thompson Falls Invitational earlier in the week) was wonderful," she said. "Between the weather and the gentle, soft racing surfaces, we had several personal bests and season bests."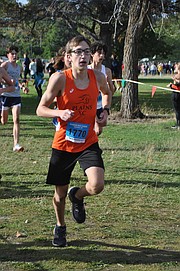 Recent Headlines
---